With a vast number of clean lakes and wooded areas, Fergus Falls is the gateway to the lakes and hills region of Otter Tail County. Located in the West Central Minnesota lakes country, near the Red River Valley, Fergus Falls is a hot spot for families interested in vacationing in beautiful Otter Tail County.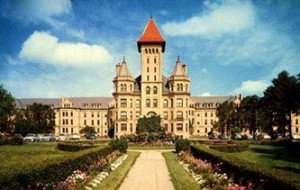 Fergus Falls has rich rolling farmland, wooded hills and over 1,000 lakes. The clear lakes in Otter Tail County provide opportunities for fishing, swimming, and water sports. Whether you want to canoe, boat, water-ski, swim or fish, windsurf or sail, Fergus Falls and the surrounding 1,100 lakes have something to offer family members of every age.
Fergus Falls has wonderful museums, historic buildings, a performing arts center that brings a wide range of programs, shopping opportunities from national chain stores to boutiques and antiques, a nature learning center, world-class horse arena and fabulous biking/walking/snowmobiling trails. Fergus Falls is the anchor point to the beautiful Pine to Prairie Birding Trail and the ever so popular Otter Trail Scenic Byway. The Broken Down Dam Park is also a great place for your family to take photographs.
And, most importantly, Fergus Falls is just a short drive from East Silent Resort! Visit Fergus Falls during your next vacation at East Silent Resort. Relax, unwind and enjoy a refreshing environment that will leave your family prepared to return to everyday life invigorated and ready to go.