There's more to do at East Silent Resort than you can imagine. In fact, with everything there is to see and do, you'll want to plan more than one vacation to get it all done! We have something for everyone! The outdoor enthusiast, the water lover and beach comber, the shopper, the fisherman, the history buff, the artist, and the explorer. Whatever your pleasure, you'll find it and more at East Silent Resort and the surrounding area. Select the links below to learn more about our scheduled resort activities and recreational activities.
scheduled resort activities
East Silent Resort has a long history of being an active family resort. We offer a wide variety of scheduled activities for kids, teens, and the entire family. We include an array of activities with something for everyone. Our scheduled activities are offered Monday through Friday, throughout our summer season. Take a few minutes to learn more about our many scheduled activities and social events.
Resort activities by season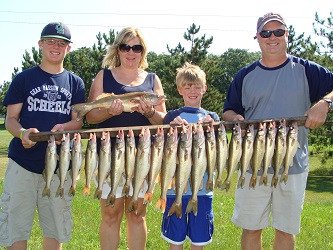 Spring
East Silent Resort comes alive in the spring, offering a perfect opportunity to enjoy the bright new colors on a nature walk.  Or, get out on the water for fishing opener. East Silent Lake has long been considered a premier Minnesota walleye fishing lake with its undeveloped wilderness shoreline offering little fishing pressure.  Spring is prime bird watching season, and you're sure to spot many species. Indulge in your favorite meal on your lakeside patio amidst the new sights and sounds that emerge in the springtime. Otter Tail Lakes Country has several outdoor events and activities in the spring. Some of our favorite spring resort activities include fishing the 1,048 Otter Tail County lakes, golfing at any of the fine regional golf courses or country clubs, biking the Central Lakes or Heartland Trails, and nature watching in one of our gorgeous state parks or wildlife management areas.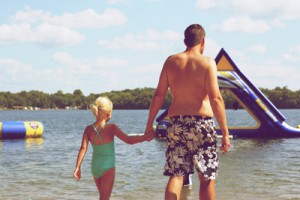 Summer
Summer is time to get on the water, and the activities are endless on clear, sparkling East Silent Lake.  Take a leisurely swim, ski or wakeboard behind the boat, sunbathe on the pontoon, or try catching a walleye for dinner.  Lay on the sandy beach while the kids enjoy building sandcastles and jumping off the dock.  East Silent Resort's Activity Program offers planned activities each week from mid-June through mid-August. Some of the favorite activities among the children and teenagers including,  torpedo rides, the human launch, and skiing/wakeboard lessons. While a variety of activities are offered for "kids" of all ages, your need for peace and tranquility, and doing "your own thing" is totally appreciated.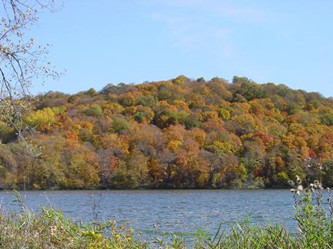 Fall
Come experience the radiant colors of fall sprawled over the resort's 50 acres.  Or take a five minute drive to Maplewood State Park and bask in the beauty of over 100 miles of walking trails, forest, lakes and prairie land.  Hunting is a favorite sport of East Silent Resort's fall guests.  After a day of hunting or exploring, eat and rest in our modern cabins or vacation homes, taking in the beautiful lake and autumn scenery. Planning for a group? Fall resort activities are plentiful. From relaxing spa getaways for the gals to hunting weekends for dad, let the dedicated staff at East Silent Lake Resort worry about all of the details. Some suggested resort activities for your next fall visit include visiting a pumpkin patch or local orchard, explore the Prospect House Civil War Museum, take a drive on the Otter Trail Scenic Byway, taste the local brew at Disgruntled Brewery or Union Pizza or Beer, or celebrate the annual Oktoberfest in Pelican Rapids, MN.
Winter
Winters at East Silent Resort offer the perfect place to  rest, relax, and enjoy the peace and quiet beauty of lakeside living.  Grab a book and a glass of wine and snuggle into a comfy chair in front of the fireplace.  When it's time to get up and stretch, explore the resort's 50 acres on snowshoes.  Just down the road Maplewood State Park offers 20 miles of groomed snowmobile trails and 13 miles of cross country ski trails.  Local communities host winter festivals throughout the season. Some of our favorite resort activities include skiing, snowboarding and tubing at Detroit Mountain, ice skating on beautiful East Silent Lake, cross country skiing and snowshoeing at Maplewood State Park, and ice fishing in a comfortable ice house provided by Meister Guide Service.
In case you pull yourself away from the resort grounds, we've included information about the surrounding Otter Tail Country area! East Silent Resort sits near many great Otter Tail County attractions to make your vacation memorable. If you're looking for hiking, a relaxing walk, great golf or a trophy fish you'll find it near our resort. Two great state parks are near our location. The local communities have events in the summer, and the great people will make you feel like you've lived in their small town your whole life.