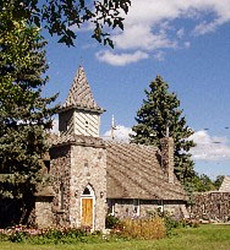 Another great place to go if your family members are excited about history, culture, and art, is no doubt—the History Museum of East Otter Tail County! Established in 1998, the History Museum of East Otter Tail County is located in Perham, Minnesota in the heart of the West Central Lakes Area. Built originally as an Episcopal church, the History Museum is housed in a beautiful historic stone structure. Different from the Historical Society Museum of West Otter Tail County, the East History Museum allows your family to both see and hear the old stories of the area's earliest people, places and events.
Interpretive exhibits offer your family a mystery trip to discover stories about the first settlers logging in the area, the arrival of the railroad, forgotten towns, early tourism and much more. The past comes alive with early motion picture footage from the 1920s and there are stories about music and the musicians of East Otter Tail County during the era of dance bands. For local action, you can trace the history of your family in East Otter Tail County, research and create your own family tree by utilizing the resources of the History Museum's Genealogy Lab.
If possible, take your family to the Perham Pioneer Festival held annually the third weekend in August. Also, "Muse-ings" is an ongoing series of local history stories from Area Voices and is also published in the Perham Focus. The gift shop contains a unique selection of gifts, books and games, all with a flavor of the past for your family to choose from.
You'll never regret choosing to come and visit our fantastic History Museum of East Otter Tail County for your unique family trip in Minnesota.
Address: 230 1st Avenue North, Perham MN.
Phone: (218) 346-7676