This is the Northwest Minnesota Birding Report for Thursday, April 28, 2016 sponsored by the Detroit Lakes Regional Chamber of Commerce. You may also hear this report by calling (218)847-5743 or 1-800-433-1888.
It has been a cold, drizzly week in the far northwestern part on Minnesota, and even wetter further south. Finally, it seems to have turned, and tonight the sun is shining brightly in Pennington County. Since most of the winds have been from the north or northwest, not much has happened with migration this week. The wind has dropped a bit tonight, so maybe tomorrow the influx of new species will resume. So far in most of the northwest, all the common ducks have been reported; both swans, bald eagles, northern harriers, red-tailed hawks, double-crested cormorants, most of the grebe species, all the usual woodpeckers, merlins, dark-eyed junco, song sparrows, white-throated sparrows, brown-headed cowbirds, and  purple finch  are being seen in most counties.
Beth Siverhus reported COMMON LOON,  BALD EAGLE, ROUGH-LEGGED HAWK, OSPREY, TURKEY VULTURE,  and SANDHILL CRANE  from Lake of the Woods Coun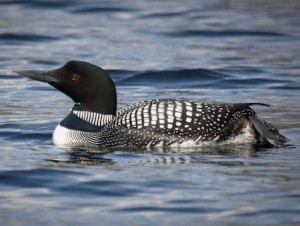 ty this week.
In Roseau County, she had a long list of species. Highlights included SHORT-EARED OWL, SHARP-TAILED GROUSE, RUFFED GROUSE, WILSON'S SNIPE, AMERICAN WOODCOCK, HORNED GREBES, RED-NECKED GREBES, PIED-BILLED GREBES, SHARP-SHINNED HAWK, AMERICAN WHITE PELICAN,  BROWN CREEPER, HERMIT THRUSH, WHITE-CROWNED SPARROW, HARRIS'S SPARROW, FOX SPARROW, SONG SPARROW, PALM WARBLER,  YELLOW-RUMPED WARBLER and PINE SISKIN.
In Beltrami County, Beth reported a GREAT GRAY OWL  north of Kelliher at mile marker 27 on April 24. Other species seen in the county included both TRUMPETER SWANS and TUNDRA SWANS at the Kelliher rice paddies. Nancy Wasik in Eckles township west of Bemidji reported NORTHERN FLICKER, RED-BREASTED NUTHATCH, CHIPPING SPARROW, YELLOW-RUMPED WARBLER, PINE SISKIN, and PURPLE FINCH  among others.
Here in Pennington County, migration has been slow this week, but tonight I had a COOPER'S HAWK  in the yard, and a COMMON LOON  in the Red Lake River.
In Polk County, Leon Thoreson observed a SNOWY OWL  six miles east of Climax on April 24. Other species he mentioned included 100 LAPLAND LONGSPURS,  and two SNOW BUNTINGS. Sandy Aubol reported WESTERN GREBES, HORNED GREBES, and BONAPARTE'S GULLS  at the East Grand Forks WTP on April 27. On April 23, she found an AMERICAN AVOCET  at the Agassiz Valley Impoundment. While in a prairie- chicken blind at Glacial Ridge,  Sandy Aubol, David Harrington and I saw and heard GREATER PRAIRIE-CHICKENS,  NORTHERN HARRIERS, WILSON'S SNIPES, MARBLED GODWITS, and a WESTERN MEADOWLARK  on April 23.
Alice Martin in Otter Tail County reported BUFFLEHEAD, FRANKLIN'S GULL, YELLOW-RUMPED WARBLER, PINE SISKIN,  PURPLE FINCH, and AMERICAN GOLDFINCH  today.
Thanks to Alice Martin, Beth Siverhus, Leon Thoreson, Nancy Wasik, and Sandy Aubol for their reports.
Please report bird sightings to Jeanie Joppru by email, no later than Thursday each week, at [email protected] OR call the Detroit Lakes Chamber's toll free number: 1-800-542-3992. Detroit Lakes area birders please call 847-9202. Please include the county where the sighting took place. The next scheduled update of this report is Thursday, May 5, 2016.