This is the Northwest Minnesota Birding Report for Thursday, March 12, 2015 sponsored by the Detroit Lakes Regional Chamber of Commerce. You may also hear this report by calling (218)847-5743 or 1-800-433-1888.
Spring is coming fast to the northwest. HORNED LARKS are everywhere, and some raptors are appearing. As the ponds lose their icy cover, waterfowl are starting to appear.
From Otter Tail County, Alice Martin reported a EURASIAN COLLARED-DOVE
 on March 6, and a MOURNING DOVE on March 8 in her yard.
In Hubbard County, Joel Groebner reported a TRUMPETER SWAN  on the ice at La Salle State Recreation Area on March 5. Connie Cox at Itasca SP reported a flock of about 20 SNOW BUNTINGS at the park entrance  and PINE SISKINS and RED-BELLIED WOODPECKER at the feeders. 15 RED-WINGED BLACKBIRDS  were seen at the Hubbard-Beltrami line.
Steve Midthune in Becker County reported that waterfowl are starting to appear on some open ponds including CANADA GEESE, TRUMPETER SWANS, MALLARDS, GADWALL, and NORTHERN PINTAIL. A NORTHERN HARRIER and 14 GREATER PRAIRIE-CHICKENS were seen at Hamden Slough NWR.
Mark Otnes reported a pair of C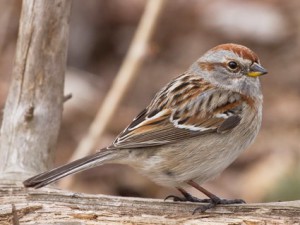 OMMON RAVENS nesting  under the bridge near  Buffalo River State Park in Clay County.
A BARRED OWL  was heard by Ann Flowers on the East Grand Forks side of the Red River in Polk County on March 7. Sandy Aubol reported the first AMERICAN TREE SPARROW  in her yard in East Grand Forks on March 9. Bruce Flaig reported TRUMPETER SWANS, and a few RED-WINGED BLACKBIRDS  in southern Polk County this week. Emily Hutchins observed a SNOWY OWL  along CR 11 1.5 miles east of Gentilly on March 11. CANADA GEESE, TRUMPETER SWANS and a ROUGH-LEGGED HAWK  have been seen in the county , and BALD EAGLES are on the nests.
Shelley Steva saw a flock of 25 SHARP-TAILED GROUSE  fly over the road near the intersection of Pennington CR 7 and US 59 on March 6. Brad Kosel reported seeing the EURASIAN COLLARED-DOVES  in Thief River Falls near the river in the area of the 3rd St. bridge on US 59.
Tim Driscoll and some of his students saw two GREAT GRAY OWLS  in Beltrami County on March 7. One was 0.4 miles north of mile marker 91 on MN 1 where it runs together with MN 89, and one was along MN 1 two miles east of Redby.
Tim Driscoll reported seeing at least 12 NORTHERN HAWK OWLS  north of Roseau in Roseau County on March 6. A GREAT GRAY OWL  was seen about 0.5 miles north of mile marker 8 on MN 310. Shelley Steva and I found a male SNOWY OWL  along MN 310 on March 7, and another near the intersection of 440 Ave. and 340th St. Beth Siverhus reported some GRAY PARTRIDGE  coming to a feeder near the golf course in Roseau. On March 4, a SNOWY OWL  was seen along MN 11 near the Hay Creek Bridge. On March 7, a flock of 75 BOHEMIAN WAXWINGS  was seen on the bike trail in Warroad.
Gretchen Mehmel reported a NORTHERN GOSHAWK  that was photographed on a kill near Norris Camp. At the camp were RED CROSSBILLS, COMMON REDPOLLS, HOARY REDPOLL, and GRAY JAYS. Charlie Tucker saw some SPRUCE GROUSE  near the camp this week.
Thanks to all who sent in sightings this week.
Please report bird sightings to Jeanie Joppru by email, no later than Thursday each week, at ajjoppru@mncable.net OR call the Detroit Lakes Chamber's toll free number: 1-800-542-3992. Detroit Lakes area birders please call 847-9202. Please include the county where the sighting took place. The next scheduled update
of this report is Thursday, March 19, 2015