Thinking ab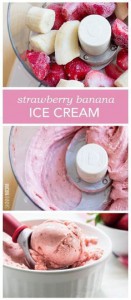 out your vacation at East Silent Resort this summer? Are you wishing that winter would hurry up so you can enjoy the sun at the beach all day? After being in the heat it's always nice to have a treat to help cool you down. Try this 4 ingredient strawberry banana ice cream recipe from skinnymom.com, it's very simple and would be a perfect way to cool off! But since it isn't summer quite yet, we'll just have to daydream about basking in the sun at the beach while enjoying this delicious treat! Here is what you'll need:
Ingredients
2 bananas, cut into 1-inch slices
½ cup frozen strawberries, sliced
2 Tbsp whipping cream
½ tsp vanilla
Instructions
Place banana slices on a plate, separating each slice. Place slices in freezer for 2 hours (overnight is best!).
Remove strawberries and bananas from freezer and place in food processor, blend until they are the consistency of soft serve ice cream.
Add cream, sweetener and vanilla and blend until smooth and well-mixed.
Transfer ice cream to a freezer container and freeze until solid.
Scoop with ice cream scoop and serve.