This warmer Minnesota weather must mean spring is coming! So how about trying this fresh, delicious Avocado Strawberry Salad with Poppy Seed Dressing from www.gimmesomeoven.com. This salad will be perfect for spring and summer time get-togethers with your friends and family whether you're at home or vacationing at East Silent Lake Resort. Not only is this salad fresh, but it is also healthy and a great start for any meal!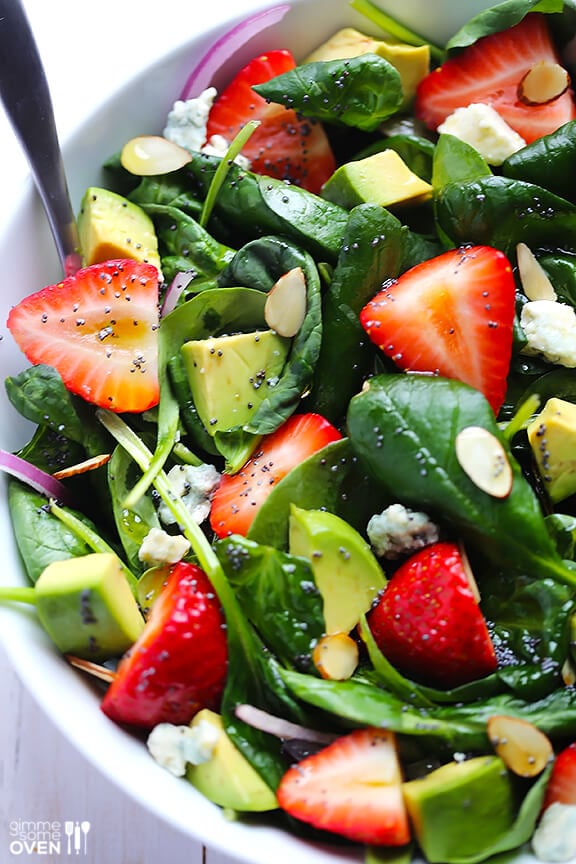 Total Time: 10 minutes
Yield: 2-4 Servings
Salad Ingredients:
• 6 cups baby spinach
• 1 pint strawberries, hulled and sliced
• 1 avocado, diced
• 4 ounces crumbled gorgonzola or blue cheese
• 1/4 cup sliced almonds, toasted
• half a small red onion, thinly sliced
• poppyseed dressing (recipe below)
Poppyseed Dressing: Whisk all ingredients together until combined.
• 1/2 cup avocado oil (or any oil, such as olive oil)
• 3 Tablespoons apple cider vinegar
• 2 Tbsp. honey
• 1 Tbsp. poppy seeds
• pinch of ground dry mustard (optional)
• salt and pepper
To Make The Salad:
Toss all ingredients together with your desired amount of dressing until combined and enjoy!
For more recipes like this to make during your stay at East Silent Lake Resort, check out our Pinterest page and follow our "Home Cooking at ESR | Recipes" board!