Check out these easy to make cheese sticks. Simple enough to have the kids help and something the whole family can enjoy. It would be nice to sit out on the deck and enjoy these after an afternoon of swimming at East Silent Lake Resort. This recipe can be found on the blog Foods Exclusive.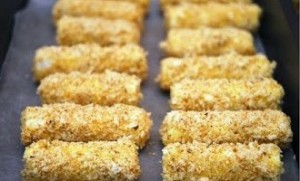 Ingredients:
1 package string cheese
1 cup panko
1 cup Italian bread crumbs
1 cup flour
2 eggs
2 tablespoons milk
2 tablespoons butter
marinara or pizza sauce
Directions:
Unwrap string cheese and cut in half. Put equal amounts of panko and Italian bread crumbs to a bowl and mix together. Beat together 2 eggs and a little milk with a fork. Put flour in a third bowl and roll each piece of cheese in the flour. Dip the flour coated cheese in the egg mixture and then coat with the bread crumb mixture. Place mozzarella sticks in the freezer for about 30 minutes. Remove the mozzarella sticks from the freezer and place them on a baking sheet. Melt butter and drizzle it over the mozzarella sticks. Bake at 400°F for about 8-10 minutes. Dip mozzarella sticks in marinara or pizza sauce.
Look for recipe ideas like this on East Silent Lake Resort's Pinterest Page, and "Amazing Appetizers as ESR | Recipes" board!