2014 is coming to a close. This is the time of year when we reflect on what has happened and look forward to what is to come, make resolutions and hope to keep them. This year during your New Year celebration why don't you try out this tasty treat from thenoshery.com. Check out the website for five other yummy recipes to try! Remember to try the recipe out and let us know what you think in the comments.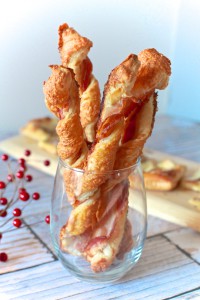 INGREDIENTS:
1 puff pastry sheet
1 cup shredded cheddar
10 sliced bacon
INSTRUCTIONS:
Open a puff pastry sheet, lightly brush with egg wash (1 egg and 1 tablespoon of water). Sprinkle with cheese and gently press the cheese into the puff pastry. Using a pizza cutter cut pastry sheet into ½ inch strips. Taking one strip at a time, flip a strip and lay bacon strip on it, gently twist being sure to leave the bacon slightly exposed.
Lay on sheet pan lined with parchment paper, bake at 425 degrees for 25 – 30 minutes. Let cool on pan and serve.
For more fun recipes check out our East Silent Resort Pinterest Page, happy cooking and happy New Year!