Its cold outside! Hope you are staying warm! If you are spending more time indoors than usual you should try this yummy treat from Bake or Break. Its worth your time!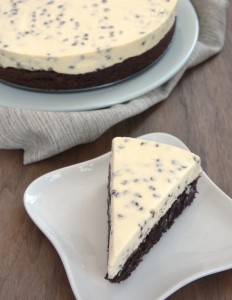 Here is what you will need:
1 package Krusteaz Gluten Free Double Chocolate Brownie Mix
1/3 cup water
1/3 cup vegetable oil
1 large egg
16 ounces cream cheese, softened
1 cup granulated sugar
1 teaspoon vanilla extract
3/4 cup heavy cream
1 cup mini chocolate chips
Instructions
Preheat oven to 325°. Lightly grease a 9-inch round springform pan.
Stir together brownie mix, water, oil, and egg until moistened and thoroughly combined. Transfer batter to prepared pan and spread evenly.
Bake 45 to 50 minutes or until a pick inserted into the center comes out with moist crumbs.
Cool completely in pan.
Using an electric mixer on medium speed, beat cream cheese and sugar until blended and smooth. Mix in vanilla.
Using an electric mixer with a whisk attachment, beat cream at medium-high speed until soft peaks form.
Fold whipped cream into cream cheese mixture. Gently stir in chocolate chips.
Transfer filling to cooled crust and spread evenly. Refrigerate at least 4 hours before serving.
For more fun recipes check out our East Silent Resort Pinterest Page, happy cooking and happy New Year!