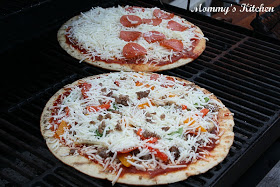 When on vacation you want to spend time with your family and friends. You don't want to spend all your time cooking, or using the oven to superheat your cabin. That's why I love making pizza on the grill. It is very simple and it doesn't heat up your cabin. Have you ever tried making pizza on the grill? If you haven't, you should! This grilled pizza recipe from Mommy's Kitchen is very simple and would be perfect to try out! So if your grill gets left out for the winter and it gets warm enough to use it, you can start practicing for this summer's vacation! Here is what you'll need:
Italian Sausage & Veggie Pizza
1 – Mama Mary's Thin and Crispy Pizza Crust
1 – 12 oz package Great Value Mozzarella & Italian Blend Cheese
1/3 – cup Ragu Pizza Sauce
1 – cup Italian Sausage, browned
Hormel or Mama Mary's Pepperoni's
Sliced Mushrooms, Onions & Bell Peppers, precooked
Fresh Basil
Great Value Olive Oil Spray
Preheat gas grill to medium heat or prepare charcoal grill. Spray both sides of the pizza crust with Great Value Olive Oil Cooking Spray (away from the grill) or use regular olive oil.
Place both pizza crusts on the grill and let the crust cook until you can see grill marks. (grill only one side of the crust)
Remove crust from grill and flip the crust over so the side without the grill marks is on the bottom. (At this point I took the pizza's in the house and assembled each of them).
Add the pizza sauce, cheese and any topping you want on the grilled side. Place the pizza's back on the grill and close the lid.
Cook until cheese starts to bubble and the toppings are heated through. (about 10 – 15 minutes). Remove pizza, let cool and enjoy.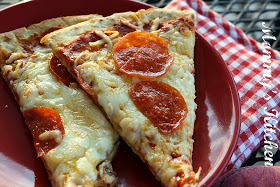 Cooks Tip: If using a charcoal grill after the coals have turned white spread the coals out some. This way you don't have just one hot spot. You can also place the pizza on the warming rack to cook the pizza after adding the toppings. This will keep the bottom crust from burning. Grilling just one side of the crust to start helps out a great deal. If you do grill both sides of the pizza I recommend spreading some foil on the grill and then placing the pizza's on top to cook.