Need a snack that will keep the children entertained while on the go this fall? Try this fall mix from Sick a Fork in it! Don't forget to check them out for more get recipes if you enjoy this one. Also if the candy corn doesn't make this yummy treat Halloween enough for you feel free to add whatever you like to increase the Halloween spirit!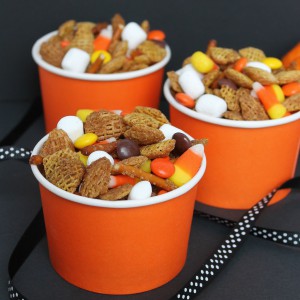 Ingredients:
6 cups Chex or Crispix cereal
1 cup pretzels
6 tablespoons butter, melted
1/4 cup brown sugar
1 tsp cinnamon
1 cup Reese's pieces or M+M's
1 cup mini marshmallows
1 cup candy corn
Directions:
Pre-heat the oven to 275 degrees F. Line a baking sheet with parchment paper or a silpat and set aside.
Melt the butter in a large bowl, then toss together with the cereal and pretzels until evenly coated. In a small bowl, stir together the brown sugar and cinnamon, then toss with the cereal mixture to evenly coat. Spread the cereal mixture onto the baking pan and bake for 20 minutes.
After removing from the oven, allow to cool completely. Then, stir together with the Reese's, candy corn and marshmallows. Serve in a large bowl for a party or package into small bags to give out to friends.
Who doesn't love Halloween? Check out East Silent Lake Resort's Pinterest Page and "Halloween with ESR" board.