It's October and that means Halloween is coming! Get ready for four weeks of Halloween themed treats to share with the family! This lovely cookie recipe is from Lil' Luna and if you like to check out the sucker recipe head on over to their page! Have some Halloween fun!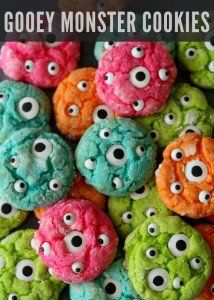 Ingredients
• 1 White Cake Mix Box
• 1/2 cup butter softened
• 1/2 tsp. vanilla
• 1 8 oz. Cream Cheese Bar softened
• 1 egg
• Powdered Sugar
• Food Coloring
• Candy Eyeballs
Instructions
1. Beat butter, vanilla, egg and cream cheese until fluffy.
2. Mix in cake mix. Divide batter into bowls for the amount of colors you want.
3. Add food coloring to each individual bowl and mix until all combined.
4. Chill for 30 minutes.
5. Roll into balls and dip in a bowl of powdered sugar.
6. Place on greased cookie sheet and pat down a bit.
7. Bake at 350 for 10-12 minutes
8. Add candy eyeballs while cookies are still warm.
Who doesn't love Halloween? Check out East Silent Lake Resort's Pinterest Page and "Halloween with ESR" board.