Who doesn't enjoy pizza?! During the summer though I don't feel like turning on the oven and heating the whole house up. Thank to Kami on the website nobiggie.net I don't have to and neither do you! Check out this delicious looking pizza recipe and cook it on the grill of all places! This recipe makes 1 pound of dough or four 10-inch pizzas, perfect amount for the family.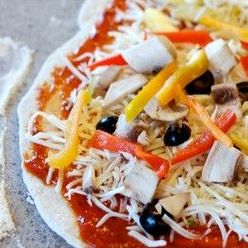 Pizza dough recipe:
Ingredients:
1 teaspoon sugar
1 packet (1/4 ounce) active dry yeast
2 teaspoons extra-virgin olive oil, plus more for bowl and brushing
Coarse salt and ground pepper
2 1/4 cups bread flour or all-purpose flour, plus more for work surface
Note: Store, refrigerate dough pieces, covered, up to 2 days.
Directions:
Pour 1 cup warm water into a medium bowl and add sugar and sprinkle with yeast. Let stand until foamy for about 5 minutes.
Whisk oil and 1 teaspoon salt into yeast mixture. Add flour and stir with a wooden spoon until liquid is incorporated (dough will appear dry). Turn out onto a floured work surface. Knead until dough comes together in an elastic ball, 2 minutes. Transfer to an oiled medium bowl; brush lightly with oil. Cover bowl with plastic wrap; set in a warm, draft-free place until dough has doubled in bulk, 45 minutes. Punch down dough and cover; let rise another 30 minutes.
Turn out dough onto a lightly floured work surface. Divide into 4 equal pieces. Let rest 15 minutes before using.
Once you roll out your dough on a floured surface, get it onto tinfoil and a cookie sheet (preferably one with no sides) before you add your sauce, cheese and toppings. This will make it easy to slide the tinfoil with dough on top right onto the grill. When you're ready to grill it only takes a few minutes on the grill for the crust to bubble up and brown and the cheese to melt.
Look for recipe ideas like this on East Silent Lake Resort's Pinterest Page, and "Home Cooking at ESR | Recipes" board!