Do you like shrimp? Do you like salsa? Do you like tacos? Do you like grilled food? Yes? Perfect! Check out this idea from Liz's site What Dress Code? She combines all of these to make a yummy grilled shrimp taco with fresh peach salsa! Try it for yourself! I bet the whole family will enjoy this new twist on family taco night.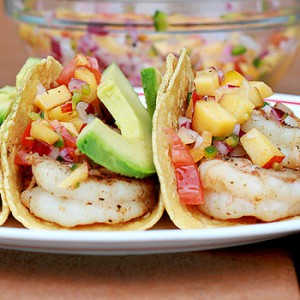 Ingredients:
For the shrimp
9 jumbo shrimp (allow 3 shrimp per taco, so adjust this quantity accordingly)
1 teaspoon Old Bay seasoning
1 teaspoon garlic salt
1/2 teaspoon pepper
1 tablespoon lime juice
For the salsa
2 peaches, chopped
1/2 cup cherry tomatoes, chopped
1/4 red onion, minced
1/2 jalapeño, minced
1 tablespoon lime juice
salt and pepper to taste
corn tortillas
sliced avocado
Directions:
Chop the peaches and other mix-ins and toss together in a bowl. Toss the shrimp in the seasonings and lime juice and carefully put them on the skewers — you can also use two parallel-aligned skewers to make flipping the shrimp easier if you'd like. Heat the grill to medium heat and grill the shrimp for 3 minutes, turn, and then again on the other side for another 2 minutes. Shrimp can be very easily overcooked, so you're looking for that just-pink look and they're done. When you flip the shrimp, also set the tortillas on the grill for those last 2 minutes to warm them up. The slide the shrimp off the skewers (about three per tortilla) and add a few hearty spoonful's of salsa and a few slices of refreshing avocado. Done!
Look for recipe ideas like this on East Silent Lake Resort's Pinterest Page, and "Home Cooking at ESR | Recipes" board!