Mother Nature sometimes needs to nurture the Earth in a way we don't always want at East Silent Lake Resort in Otter Tail Lakes Country. Sometimes she needs to make it rain. While the Earth takes in what it needs so do we! Stay dry inside and bring a campfire treat with you! Try out this indoor s'more recipe from www.frombraziltoyou.org. Total Time to make it is 10 mins. Enjoy!
Ingredients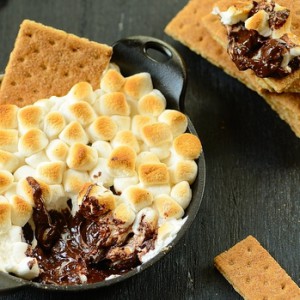 • 12 (1-ouce) squares of semisweet or dark baking chocolate, chopped (I used semisweet)
• 4 cups of miniature marshmallows
• Graham crackers to scoop the S'mores filling with
Instructions
1. Preheat oven to 450º F (232º C).
2. In a 10-inch cast iron skillet, add the chocolate (semisweet or dark according to your preference) in an even layer. Sprinkle marshmallows on top of the chopped chocolate.
3. Bake until marshmallows are browned and chocolate is melted, about 4-5 minutes, as follows: The first 2-3 minutes, loosely cover skillet with a sheet of aluminum foil (tented so that it will not stick to the marshmallows)… Then, remove aluminum foil for the last 2 minutes so that marshmallows can brown. Let stand for approximately 4 minutes before serving with the crackers on the side. Enjoy! If you are serving this Skillet S'mores for one to a couple of people, you can decrease the ingredient amounts by half like I did, and use a smaller skillet.
For more fun S'mores recipes check out East Silent Lake Resort's Pinterest page and "More S'mores at ESR | Recipes" board.