Valentine's day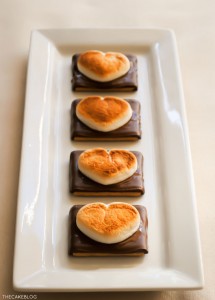 is just a few weeks away! With Valentine's day in mind, and the start of a new month making  you one step closer to your summer vacation, why not try these, I Love You, S'Mores?! I love how versatile S'mores are! You can make them the traditional way over the campfire, OR you can try a recipe like this one! This way if you're not on vacation enjoying them, you can be home enjoying them, dreaming you are on vacation! Here is what you'll need:
Ingredients:
Campfire Heart Shaped Marshmallows (available at your local grocery store or online at Amazon)
Graham Crackers
Chocolate Bars
Step 1: Preheat broiler on 500. Line a baking tray with tin foil.
Step 2: Break graham cracker sheet in half and place onto a baking tray. Top with half of a chocolate bar and one heart-shaped marshmallow.
Step 3: Repeat to create as many s'mores as you desire.
Step 4: Place under broiler for roughly 60 to 90 seconds. Watch the whole time so that the marshmallows do not burn. Just lightly toast!
Step 5: Remove from oven. Let cool. Use a spatula to move s'mores to a serving plate.
Check out East Silent Resort's Pinterest Page for more S'more and other delicious recipes!