Have a sweet tooth like me? Check this out, you'll love every bite! Thanks to insidebrucrewlife.com we can all enjoy this at the resort or during a NFL party. Prep time is only 15 minutes and this recipe makes about 5 cups.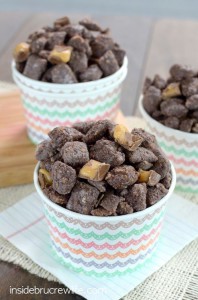 Ingredients
1 cup crushed Salted Caramel Brownie Brittle (4 ounce bag)
4 1/2 cups Chocolate Chex cereal
8 ounces chocolate CandiQuik
1/4 cup powdered sugar
15 Rolo candies, quartered
Instructions
1. Use a food processor and crush the bag of Brownie Brittle into fine crumbs. Makes about 1 cup. Set aside.
2. Melt the CandiQuik in the microwave according to the package directions. Pour over the cereal in a large bowl. Stir until all the cereal is coated.
3. Spoon the chocolate covered cereal into a large ziplock bag. Pour in the crushed Brownie Brittle, close the bag, and shake the bag until all the cereal is coated in crumbs. Add the powdered sugar and shake again.
4. Pour the cereal onto a wax paper lined tray. Let set completely. Stir in the chopped Rolos. Store in a sealed container. Makes about 5 cups of snack mix.
Who doesn't love dessert? Check out East Silent Lake Resort's Pinterest Page and "Sweet Treats at ESR | Recipes" board.