It's another week closer to Thanksgiving and we have a yummy side dish for you to make this year all thanks to damndelicious.net. This will take longer to make than canned creamed corn, about a cook time of 3 hours and 15 minutes, it will be worth the time since it will just cook in the slow cooker anyway. Today I am thankful for my wonderful friends that stand by my side through thick and thin! Try this recipe for yourself, let us know in the comments what you are thankful for today and what you thought of this dish!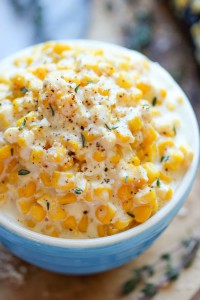 INGREDIENTS
• 3 (15.25-ounces) cans whole kernel corn, drained
• 1 cup milk
• 1 tablespoon sugar
• 1/4 teaspoon pepper
• 8 ounces cream cheese, cubed
• 1/2 cup (1 stick) unsalted butter, cut into thin slices
INSTRUCTIONS
• Place corn into a slow cooker. Stir in milk, sugar and pepper until well combined. Without stirring, top with butter and cream cheese. Cover and cook on high heat for 2-3 hours.
• Uncover and stir until butter and cream cheese are well combined. Cover and cook on high heat for an additional 15 minutes.
• Serve immediately.
Remember to be thankful! Check out East Silent Lake Resort's Pinterest Page and "Thanksgiving with ESR" board for more great recipes and ideas like this!