Here is winter themed treat we found on Pinterest! The recipe came from Hand Made Charlotte by Sandra Denneler. We thought it would be something fun to make with family or for the family this time of year! Try it for yourself and let us know what you think!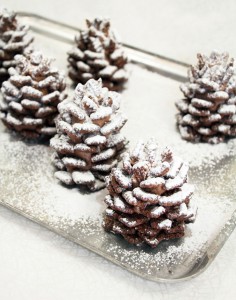 What you will need:
·         3 cups Chex Choco­late cereal or com­pa­ra­ble (Choco­late Fiber One cereal)
·         6 pret­zel sticks
·         1/2 cup peanut butter
·         1/4 cup Nutella or a choco­late hazel­nut spread
·         3 table­spoons but­ter, softened
·         1 cup pow­dered sugar
Directions:
Step 1
Mix the peanut but­ter, Nutella, but­ter, and pow­dered sugar in a bowl.
Step 2
Take a pret­zel stick and mold some of the peanut but­ter mix­ture around it, form­ing a slight cone shape.
Step 3
Hold­ing it steady by using the tip of the pret­zel as a han­dle, start insert­ing pieces of cereal into the peanut but­ter mix­ture in a sym­met­ri­cal pat­tern around the stick. Add more cereal pieces, stag­ger­ing them as you move upward, until you get near the top.
Step 4
Cut sev­eral cereal pieces into tri­an­gles and add those to the top (most pinecone scales get smaller toward the end.)
Step 5
If your pinecone is get­ting too tall, cut off the top of the pret­zel and add a dol­lop of peanut but­ter mix­ture to cover it. Insert a few more tri­an­gle pieces of cereal into the top of the pinecone.
Step 6
For a "snowy" effect, dust the pinecone with pow­dered sugar.
Check out East Silent Lake Resort's Pinterest Page and "Winter Recipes with ESR" board for more great recipes and ideas like this!