Don't miss PROJECT Trio this Friday at 7:30 pm downtown Fergus Falls at The Center for the Arts! Only a short drive from East Silent Lake Resort, get tickets now to this musical performance for only $19.00. This will be a great event for the whole family!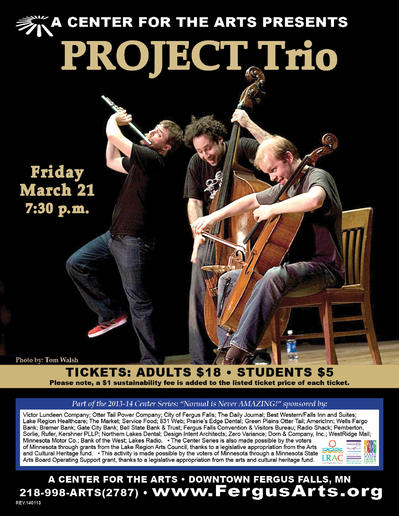 PROJECT Trio is taking chamber music to a whole new level. Greg Pattillo, flute; Eric Stephenson, cello; and Peter Seymour, bass; are pushing the boundaries of chamber music with a high-octane mix of classical, jazz, hip-hop, and rock. The Trio performs to enthusiastic audiences of all ages in concert halls, clubs, and classrooms around the world. Based in Brooklyn, New York, Pattillo, Stephenson, and Seymour founded PROJECT Trio in Boulder, Colorado in the summer of 2005.
This activity is made possible in part by the voters of Minnesota through grants from the Lake Region Arts Council, a Minnesota State Arts Board Operating Support grant, thanks to a legislative appropriation from the Arts and Cultural Heritage fund.
For more information call:218-998-2787 or email: [email protected]. Follow the link below to buy your tickets today!