While having your family vacation at East Silent Resort in Otter Tail County, try some of our delicious restaurants. You can find several types of dining within a few miles. Or, take a little longer road trip to experience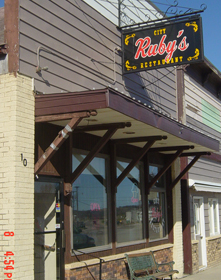 Ruby's City Restaurant, a local historic restaurant in Ashby, Minnesota near the Central Lakes Bike Trial. Ruby's City Restaurant specializes in home cooked meals made from scratch. Come for nightly specials, or drop by for breakfast, lunch, or dinner. Ice cream cones, sundaes, malts, beer, and wine are also available.
When you stop in, be sure to check out the historic display of Minnesota waterfowl located inside the restaurant. Ruby's City Restaurant is a place known for having good food and a friendly atmosphere. No one leaves their table hungry at Ruby's City Restaurant!