Are your family members interested in playing golf together? Or do you want to teach your family how to play golf? Are you looking for a great resort that has easy access to many fantastic golf courses? Check out East Silent Resort! We are just a short drive from many beautiful golf courses in the Otter Tail County, and one of them is the Wildflower Golf Course located in northwest Minnesota, 15 miles south of Detroit Lakes, and just three plus hours northwest of the Twin Cities.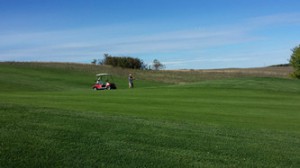 The Wildflower Golf Course is a British-Scottish type of link course with lots of traps and hills to play over. The wide open vistas, beautiful wildflowers scattered throughout the course, and the oaks lined fairways provides with breathtaking scenery for visitors. Tee boxes are designed for skill levels of all golfers. Designed by Joel Goldstrand, this 7,000 yard championship layout has quietly become recognized as a great golf destination in Northwest Minnesota.
During your family vacation at East Silent Resort, don't forget to check out the fantastic Wildflower Golf Course for a round of golf!