Do you fall in love with beautiful trails? Then, Otter Tail County is the perfect family vacation destination for you to explore the magic of our many attractive trails. One of the most exciting trails we strongly suggest your family explore is the Central Lakes Trail, the major corridor that lies in the central hills and lakes region of Otter Tail County. Most importantly, it's within driving and biking distance from East Silent Resort.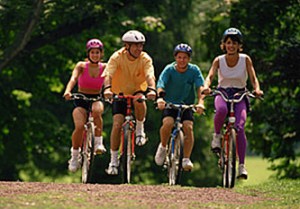 The Central Lakes State Trail opened in phases since the purchase of an abandoned Burlington Northern Railroad corridor by the State of Minnesota in 1992. The final segment of the trail was completed in 2005, marking the ideal end of a partnership between state officials and volunteers. The Central Lakes Trail was used for both summer and winter time family travel activities, such as biking, rollerblading, running and walking, snowmobiling, and more. This gorgeous feature lies in a 99-mile rail bed, parts of which are completely hidden from any sign of traffic.
Consider visiting the beautiful and relaxing Central Lakes Trail while vacating at East Silent Resort.