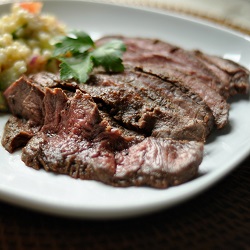 Ok, so I know you're staying at a resort and all. And that you might just be here for the awesome fishing that our wonderful area has to offer, but seriously, you'll need to have a good steak recipe handy won't you? What kind of a vacation would it be without a steak? Sorry vegetarians, I DO offer many options for you as well. Forgive me. I love steak. And I REALLY love tender juicy perfectly grilled nicely seasoned medium rare steak the best. Here is one you must try. If you don't have these ingredients handy, its OK, you can certainly change it up a bit. I would say that the lime, hot sauce, ginger and garlic are probably the key must have ingredients, but go ahead and experiment, you might just discover a combo you love.
Grilled Citrus Flat Iron Steak
3 tablespoons fresh lime juice
3 tablespoons fresh lemon juice
2 tablespoons rice vinegar (can sub other vinegar)
2 tablespoon olive oil
1 tablespoon soy sauce
2 teaspoons chili garlic sauce (sambal, sriarcha), sub a finely chopped jalapeno, if desired
2 tablespoons honey
1 tablespoon minced fresh ginger root
2 teaspoons minced fresh garlic
1 teaspoon black pepper
2-3 lbs flat iron steak (can sub flank or london broil, but try to find the flat iron, its amazing)
Whisk together all ingredients, except the steak in a medium sized bowl. Place the flat iron steak into a resealable plastic bag, and pour the marinade over the top. Squeeze out the excess air, seal, and marinate in the refrigerator 1-2 hours.
Preheat an outdoor grill to medium-high to high heat.
Remove flat iron(s) from the marinade, and discard the remaining marinade. Cook on preheated grill until the steak has attained your desired degree of doneness. Place steak onto a plate or cutting board and allow to rest for 5 minutes before slicing against the grain for serving.
I can't stress how tasty this steak will be, especially if you cook it to no more than medium and preferably more toward the medium rare side. As long as it cooked to no more than medium, it will be tender and juicy. Once you start cooking this cut (or any of those I listed above) anything beyond medium, the meat seizes up and gets tough. Tough chewy meat = bad vacation.
Content provided by Jan Ellis, Personal Chief