This is the Northwest Minnesota Birding Report for Thursday, June 23, 2016 sponsored by the Detroit Lakes Regional Chamber of Commerce. You may also hear this report by calling (218)847-5743 or 1-800-433-1888.
True summer weather seems to have arrived, and with it the frequent rains, and the flowers. North of Thief River Falls, there are many areas that are too wet now, but that has helped some species of birds. Notably, a breeding bird survey that I did in Roseau County starting at Badger, and going east and south from there, I found LE CONTE'S SPARROWS singing at 10 of the 50 stops yesterday. SEDGE WRENS were also numerous in contrast to last year when it was quite dry.
In Beltrami County, Ron Erpelding and Herb Dingmann found a DICKCISSEL along MN 72 just north of Blackduck. BLACK-BILLED CUCKOO was also found in Beltrami County, and CONNECTICUT WARBLER was observed at the Big Bog north of Waskish.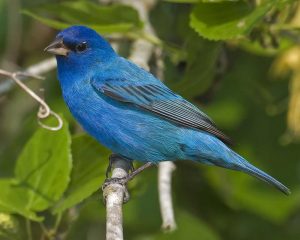 In Southeastern Clearwater County, Ron and Herb found 2 INDIGO BUNTINGS on the east side of Clearline Road, which is the Beltrami County line, south of CR 29. Other species seen in the county included BLACK-BILLED CUCKOO, and GREEN HERON.
At the very end of my breeding bird route, I heard the unmistakable song of a GOLDEN-WINGED WARBLER on 170 Ave NW a mile south of the Roseau County line in Como township of Marshall County.
Sandy Aubol reported that EARED GREBES are again building nests at the East Grand Forks WTP in Polk County. She saw about 300 EARED GREBES, along with RED-NECKED GREBES, PIED-BILLED GREBES, and an assortment of duck species. BOBOLINKS and YELLOW-HEADED BLACKBIRDS were also there. Five DICKCISSELS were found north of the edge of East Grand Forks, and 5 more were northwest of the WTP. Russ Wilbur found a RED-HEADED WOODPECKER at the East Grand Forks campground on June 23.
A black-billed cuckoo was found by Ron Erpelding and Herb Dingmann in Hubbard County on June 21.
The BAIRD'S SPARROW is still in Douglas County at the original location 1.5 miles west of CR 6 on Ost Road NW as reported by Drew Smith on June 19.
Thanks to all who sent in sightings this week.
Please report bird sightings to Jeanie Joppru by email, no later than Thursday each week, at ajjoppru@mncable.net OR call the Detroit Lakes Chamber's toll free number: 1-800-542-3992. Detroit Lakes area birders please call 847-9202. Please include the county where the sighting took place. The next scheduled update of this report is Thursday, June 30, 2016.