This is the Northwest Minnesota Birding Report for Thursday, February 12, 2015 sponsored by the Detroit Lakes Regional Chamber of Commerce. You may also hear this report by calling (218)847-5743 or 1-800-433-1888.
It has been a cold week in the northwest and shows no sign of getting spring-like any time soon.
A SHORT-EARED OWL  has been seen on February 9 in Otter Tail County at the Prairie Wetlands Learning Center near Fergus Falls. Teresa Jaskiewicz also reported COMMON REDPOLLS and a MOURNING DOVE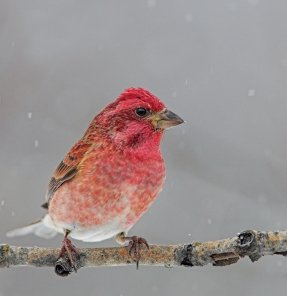 at her feeder .
Dave and Betty Hochhalter in Detroit Lakes , Becker County, this week reported WILD TURKEYS, a pair of NORTHERN CARDINALS, PURPLE FINCH, RED-BELLIED WOODPECKER, and PILEATED WOODPECKER  in their yard.
From Clay County, Maria Fosado reported that a co-worker saw a SNOWY OWL  two miles east and two miles south of Sabin near the intersection of CR 10 and CR 17 on February 5.
Sandy Aubol in East Grand Forks, Polk County, reported a RED-BREASTED NUTHATCH  and one COMMON REDPOLL  at her feeder on February 6, and a RED-TAILED HAWK  in East Grand Forks on February 7. Cliff Steinhauer saw a ROUGH-LEGGED HAWK  and three BLACK-BILLED MAGPIES  along CR 68 on February 1. A SNOWY OWL  was seen by Joanne Johnson along US 2 about a mile east of MN 75 going south on February 9. Presumably this is the same one that was previously seen at several nearby locations in and around Crookston. Emily Hutchins reported 75 COMMON REDPOLLS  near Mentor.
Here near Thief River Falls in Pennington County, I saw a group of BOHEMIAN WAXWINGS  in our yard on February 5. Two RED-BELLIED WOODPECKERS  visited  on February 11. The EURASIAN COLLARED-DOVE  reported last week in Thief River Falls was heard again this week, but so far I haven't re-located it.
In Marshall County, Cliff Steinhauer reported COMMON REDPOLLS  at his place just west of Agassiz NWR on February 6. A group of waxwings of unidentified species was also there.
Thanks to Cliff Steinhauer, Dave and Betty Hochhalter, Emily Hutchins, Joanne Johnson, Maria Fosado, Sandy Aubol, and Teresa Jaskiewicz for their reports.
Please report bird sightings to Jeanie Joppru by email, no later than Thursday each week, at ajjoppru@mncable.net OR call the Detroit Lakes Chamber's toll free number: 1-800-542-3992. Detroit Lakes area birders please call 847-9202. Please include the county where the sighting took place. The next scheduled update of this report is Thursday, February 19, 2015