Growing up in Ottertail County you become somewhat spoiled. How you may ask? Well, we have an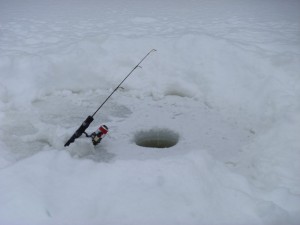 abundant amount of lakes and it is a fisher's paradise! When summer is over we have to wait a while, but right when we start to miss summer fishing, we get to start ice fishing! Going out and spending your day in a cozy fish house or if you end up hole-hopping, you can't go wrong either way. Fishing is such an enjoyable activity to do with your family. Growing up with fishing, it was something I always looked forward to. Being in a county with so many lakes, others see how great it is as well. So with having family resorts like East Silent Resort, you can create the perfect fishing getaway for your family in summer or winter! Whether you're from Ottertail County or on a fishing trip, it's always nice to have a fishing report. So here is this week's!
Walleye remain in their mid-late winter patterns. The best bite is typically during low light hours, with a shortened feeding window, making it more difficult to catch these fish. Use a set line with a smaller jig in depths of 17-23 feet to draw them into the area. Please remember that the larger walleyes may be loaded with eggs this time of year so "catch, photo and release" is strongly encouraged with the fish over 20-inches. Crappies and sunnies are also in their mid- to late-winter holding pattern. Look for them in the basins and shallower weed bowls that hold forage such as shrimp, small minnows and bugs. If possible, hole-hopping is your best bet; fish hard until you locate a school, and then fine tune your approach. Small jigs tipped with wax worms or minnows work very well this time of year.