The cold can definitely make you not want to go out ice fishing, so thankfully today is supposed to be a little warmer than the past few days! With as many lakes as there are in Otter Tail County, it's nice to have a different lake for each kind of fish you are trying to catch. If you wanted to walleye fish, the lake you go to could be different from the one you crappie fish in. I love that there are so many options for fishing. I can't imagine only having one lake and only catching one type of fish! One of my favorite parts of fishing is trying to guess what I caught. Ever since I can remember, I would always try to guess what I caught. Of course as I grew up and understood fishing better,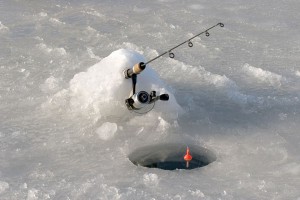 I became a better guesser. Usually there are some hints, such as how hard it is fighting, does it feel heavy, and how hard they bit the hook.  It's always a guessing game until you see the fish, but that is one aspect of fishing I enjoy. Make sure to take advantage of the nice weather and go catch some fish! Here is this week's fishing report!
Fishing and fishing activity in the Detroit Lakes area have slowed considerably, especially during the current cold front. Look for fish activity to improve as temperatures rise this weekend. Walleye angling has been slow, with short feeding activity early in the morning and just before dusk. Some walleye are in the deep waters and some have moved to the shallower green weed areas holding bait fish. The best bite in the area continues to be the panfish bite. Crappies are holding on breaks in 18-30 feet of water, with most found suspended. Actively jigging with jigs or jigging spoons tipped with wax worms, small minnows, minnow heads or plastic tails has been best. Sunfish activity has been good in the 8-13 foot weedy areas on almost all area lakes. The problem is finding the larger bluegills.