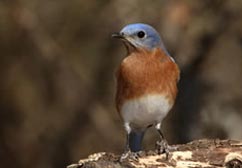 This is the Northwest Minnesota Birding Report for Thursday, February 28, 2012 sponsored by the Detroit Lakes Regional Chamber of Commerce. You may also hear this report by calling (218)847-5743 or 1-800-433-1888.
What a lovely week it has been in the northwest! It has been cold at night with days warming into the 20's and every morning all is covered in hoarfrost! We can see the increase in northern birds heading north now, and soon they will all be on their way. Great gray owls continue to be seen in some numbers in the northern part of the area , primarily in and around Roseau. They have increased in numbers in the last week or so, and spread out some more, so no one particular location has large numbers. Northern hawk owls also continue to be seen in that area.
Brad and Dee Ehlers reported 150 COMMON REDPOLLS in their yard in Otter Tail County on February 23, and on the previous day they saw two RED-TAILED HAWKS east of Fergus Falls. 75 TRUMPETER SWANS can be seen in downtown Fergus Falls and a pair of BALD EAGLES are on nest along the Ottertail River east of Fergus Falls. A COMMON RAVEN was seen by Herb Dingmann in Otter Tail County last weekend. Marion and Gary Otnes observed six AMERICAN ROBINS and 60 COMMON REDPOLLS at the Orwell Reservoir near Fergus Falls on February 28.
In Becker Count
Kathy Bresee in Moorhead in Clay County reported that the VARIED THRUSH is still in her neighborhood this week , along with RED-BREASTED NUTHATCHES, PURPLE FINCHES, COMMON REDPOLLS and other species.y Joel Arndt reported RED-BELLIED WOODPECKER, NORTHERN CARDINAL, PINE GROSBEAK, and HOARY REDPOLL in Detroit Lakes on February 23. BOHEMIAN WAXWING and a HOARY REDPOLL were seen at Rainbow Resort near Detroit Lakes on February 23.
In Mahnomen County at Waubun, Kristy May observed 3 AMERICAN ROBINS near Waubun High School on February 24. Other species seen in Waubun last weekend included several MOURNING DOVES, BOHEMIAN WAXWINGS, NORTHERN CARDINAL, and one COMMON GRACKLE.
In Polk County, Heidi Hughes observed 6-8 GRAY PARTRIDGE along the railroad tracks on the east side of US 75 between Euclid and Angus on February 21. A NORTHERN SAW-WHET OWL that flushed from the shoulder of US 2 two miles east of Crookston on February 26 was reported by Emily Hutchins.
Herb Dingmann found a HOARY REDPOLL at Huot in Red Lake County on February 23.
Another HOARY REDPOLL was seen along Robin Hood Drive in Thief River Falls in Pennington County. Herb Dingmann also reported seeing BOHEMIAN WAXWINGS and PINE GROSBEAKS in Thief River Falls that day. Shelley Steva witnessed two NORTHERN SHRIKES both chasing a single songbird in Thief River Falls on February 25. A group of several GRAY PARTRIDGES were found along MN 1 east of Thief River Falls on February 23.
Herb Dingmann found a NORTHERN CARDINAL in Warren, Marshall County on February 23. Lynda Knutsen at Agassiz NWR in Marshall County reported that the pair of BALD EAGLES are at the nest site at Parker Pool along CR 7.
Larry Wilebski sent in two reports of great gray owls in Kittson County this week. On February 22, he found a GREAT GRAY OWL four miles east on the Tombstone Highway north of Lancaster. I believe that is labeled CR 51. On February 24 he saw two on CR 4 going east from Lancaster.
Beth Siverhus at Warroad in Roseau County reported several GREAT GRAY OWLS south and east of Warroad on February 24. A large number of owls are still north and east of Roseau as of last weekend. Herb Dingmann reported 3 NORTHERN HAWK OWLS, GRAY JAY, and BLACK-BILLED MAGPIE; and a lone LAPLAND LONGSPUR was seen with a flock of SNOW BUNTINGS in that same area. Beth Siverhus also mentioned SNOW BUNTINGS,PINE GROSBEAKS, and one COMMON GRACKLE that has wintered over in the Warroad area.
In Lake of the Woods County, Beth Siverhus reported a GREAT GRAY OWL on CR 17, and 2 on CR 8 north of Roosevelt.
Thanks to all the folks who sent in their sightings this week.
Please report bird sightings to Jeanie Joppru by email, no later than Thursday each week, at ajjoppru@mncable.net OR call the Detroit Lakes Chamber's toll free number: 1-800-542-3992. Detroit Lakes area birders please call 847-9202. Please include the county where the sighting took place. The next scheduled update of this report is Thursday, March 7, 2013.