I'm a big fan of salads. I try to eat them often, but it seems that I tend toward more comforting (and perhaps less nutritious) options in the dead of winter. So when the heat of summer rolls around and the local markets start up in full swing, I hit the salad recipes in a big way.
It's not quite "tomato season" here in Minnesota and if my tomato plants are any indication, it's going to be a while before the local crop is available, but this salad can be done with tomatoes in whatever form you find them (cherry, grape, hot house, on the vine or my favorite "winter time tomato, Kumato). You also don't need to strictly follow this particular recipe (add or subtract as you wish) but I really must insist on grilling the bread. And if you can find a day (or two) old artisan loaf, please grab it and turn it into a wonderful salad the Italian way.
If you've got a reasonably sharp knife, a cutting board and a nice big bowl, you've got all the utensils you need to put this one together. Serve it alongside any grilled meat or fish, simply seasoned. Or toss a bit of cold leftover chicken breast, a bit of mozzarella cheese or any other veggies you might have stashed away. I've even added cannellini beans or chick peas to this and turned it into a vegetarian meal.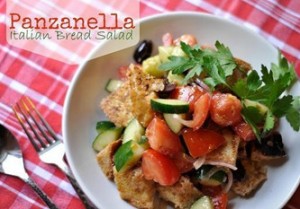 If you're into wine pairings, a nice Rose or a lighter-bodied red such as a Pinot Noir would pair nicely with this salad. Or…do as the Tuscans do and pair everything with a Chianti.
Panzanella (Italian Bread Salad)
4 Thick slices of your favorite day-old Artisan Bread – seasoned and grilled, cut into large chunks
(I used a Semolina Sesame. Find many other great options at Falls Baking Company in Fergus Falls)
4 ripe medium sized Tomatoes – cut into 8-12 pieces each
20-25 Kalamata Olives – cut in half
1 Cucumber, seeded and cut into a large dice (I quartered it lengthwise and then cut into chunks)
½ small Red Onion, sliced very thinly
Salt and Pepper, to taste
Your Favorite Balsamic or other Vinaigrette Salad Dressing
Toss the still warm bread chunks, tomatoes, olives, cucumber, red onion, salt and pepper in a large bowl. Drizzle with your favorite dressing. Do not over-dress the salad, allow the juices of the tomatoes, cucumber and olives to soak into the bread as well as a bit of the dressing. Serve immediately.