Who doesn't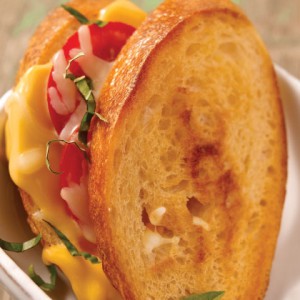 want to mix it up every once in a while? Let's take a classic grilled cheese and add a twist. This is something that won't even take you 15 minutes to make here at East Silent Lake Resort in Otter Tail Lakes Country. This recipe can be found at Spoonful.com.
What you'll need
• 2 slices sourdough bread
• 1 KRAFT Singles
• 2 thin tomato slices
• 2 Tbsp. KRAFT Shredded Low-Moisture Part-Skim Mozzarella Cheese
• 2 small fresh basil leaves, thinly sliced
• 2 tsp. butter or margarine, softened
How to make it
1. Fill bread slices with next 4 ingredients.
2. Spread outside of sandwich with butter.
3. Cook in skillet on medium heat 3 minutes on each side or until golden brown on both sides.
KITCHENS TIPS
Serving Suggestion: Serve with 1/2 cup each baby carrots and grapes.
Substitute: Substitute 1 Tbsp. MIRACLE WHIP Dressing for the butter.
How to Slice Large-Leafed Fresh Herbs: Slice large-leafed herbs such as basil and mint into thin strips by stacking several leaves on top of one another. Roll the stack lengthwise into a cylinder. Using a sharp knife, cut the cylinder crosswise to form fine shreds. This cut is called chiffonade. Be sure to use a sharp knife — a dull knife will bruise the leaves while cutting.
Look for recipe ideas like this on East Silent Lake Resort's Pinterest Page, and "Home Cooking at ESR | Recipes" board!