Thanksgiving is coming up quick! Even if Holidays in December want you to think of them instead, we are spending the next month thinking of Turkey day. A holiday dedicated to saying what we are thankful for. Today I am thankful for my loving family. Comment below what you are thankful for today! I am also thankful for the wonderful recipe below which was found on handmadeintheheartland.com. Try it for yourself and you'll know why I am thankful for it!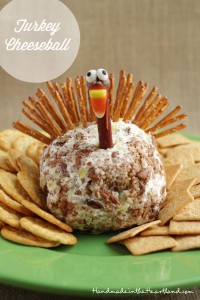 Ingredients you'll need:
2 8oz pkgs of cream cheese, softened
2 Tablespoons minced onion
1/2 tablespoon minced green bell pepper
1 8oz can crushed pineapple well drained
1 tsp salt
1/2 tsp garlic powder
1/2 tsp onion powder
1 cup chopped pecans
decorations:
pretzel sticks
whopper candy
beef jerkey stick
candy eyes
candy corn
fruit roll up
chocolate icing or melted chocolate
Directions:
Mix all ingredients other than the pecans together until well combined, (she) used (her) kitchen aid stand mixer. With damp hands roll the mixture into a ball and then roll in chopped pecans. Wrap it in wax paper and put it in the fridge to chill and firm up a bit.
Decorate:
To make the turkey "feathers" stick your pretzel sticks into the back 1/2 of the cheese ball. To create Mr. gobblers head take a stick of beef jerkey and "glue" a whopper candy on top with icing. Then attach the nose and eyes also with icing. (She) made the gobbler by cutting a little strip of fruit roll up and then laying it over the candy corn.
Remember to be thankful! Check out East Silent Lake Resort's Pinterest Page and "Thanksgiving with ESR" board for more great recipes and ideas like this!