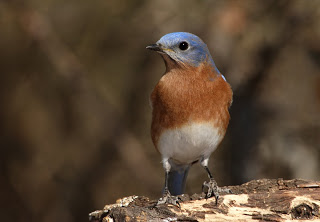 Well…Spring might still be a few weeks away. But, there have been plenty of birds hanging around the resort in recent weeks. I was sitting in the Lodge yesterday and enjoyed watching a group of Blue Jays and a HUGE Red-Headed Woodpecker. Do you enjoy birding? East Silent Resort is the perfect spot for your next birding getaway. Outside your cabin door, you have 50 acres of prime forest, wetlands, and open prairie to explore. Enjoy spectacular birding without getting in your car. Or…we are only minutes from Maplewood State Park and the Pine to Prairie Birding Trail. Visit us in May for the Festival of Birds in Detroit Lakes, MN. In an effort to update or guests on bird sightings in the area…we'll include the area's bird report on our blog.
This is the Northwest Minnesota Birding Report for Thursday, March 4, 2010 sponsored by the Detroit Lakes Regional Chamber of Commerce. You may also hear this report by calling (218)847-5743 or 1-800-433-1888.
Mother nature is teasing us this week with calm , sunny days and cold nights. There have been several foggy mornings with trees laden with frost creating photographic opportunities. Birds are starting to come back with a few spring migrants already present, and more of the first wave expected soon.
Gretchen Mehmel reported from the Beltrami Island State Forest in Lake of the Woods County this week. On the weekend, a SPRUCE GROUSE was seen north of Faunce, RUFFED GROUSE east of Norris Camp, and a NORTHERN HAWK OWL on the Roosevelt Road north of the Faunce-Butterfield road. At Norris Camp there were PILEATED WOODPECKER, GRAY JAY, and PINE GROSBEAKS.
In Roseau County, Beth Siverhus reported 6 SHARP-TAILED GROUSE east of CR 9, a NORTHERN HAWK OWL near the Canadian border north of Roseau, BLACK-BILLED MAGPIE, and 70 BOHEMIAN WAXWINGS in Warroad last weekend.
Larry Wilebski reported WHITE-WINGED CROSSBILLS in Lancaster, Kittson County, on March 3. There were HORNED LARKS along roads in the county this week.
In Clearwater County north of Itasca SP, Connie Cox reported a RED-BELLIED WOODPECKER, NORTHERN SHRIKE, AMERICAN ROBIN and 15-20 PINE GROSBEAKS on February 26. Marshall Howe found 7-8 RED CROSSBILLS at Itasca SP on February 24. Other species seen included two dark phase ROUGH-LEGGED HAWKS, and COMMON REDPOLLS.
Diana Morkassel saw AMERICAN ROBINS in Marshall County on February 26, and PILEATED WOODPECKER on February 27.
Shelley Steva saw HORNED LARKS in Red Lake County on February 28.
Bruce Flaig in southern Polk County reported RED-WINGED BLACKBIRDS on February 28. Shelley Steva found HORNED LARKS on CR 6 that day.Sandy Aubol in East Grand Forks reported a BALD EAGLE and one HOUSE FINCH on March 3.
Herb Dingmann found WHITE-WINGED CROSSBILLS and two NORTHERN CARDINALS in Detroit Lakes , Becker County on February 27.
In Otter Tail County, Wayne Runningen reported that numbers of TRUMPETER SWANS have wintered along the Otter Tail River. 73 were at the Prairie Lake inlet north of Pelican Rapids On February 28, and 50 were at Riverview Sanctuary in Fergus Falls.
Rick Gjervold, reporting from Wilkin County on March 1, found one BALD EAGLE, 5 SHORT-EARED OWLS, two AMERICAN ROBINS, and several flocks of SNOW BUNTINGS in the county that day.
Brad and Dee Ehlers saw an AMERICAN KESTREL on a power line near Alexandria on March 1.
Thanks to Beth Siverhus, Brad and Dee Ehlers, Bruce Flaig, Connie Cox, Diana Morkassel, Gretchen Mehmel, Herb Dingmann, Larry Wilebski, Marshall Howe, Rick Gjervold, Sandy Aubol, Shelley Steva, and Wayne Runningen for their reports.
Please report bird sightings to Jeanie Joppru by email, no later than Thursday each week, at ajjoppru@q.com OR call the Detroit Lakes Chamber's toll free number: 1-800-542-3992. Detroit Lakes area birders please call 847-9202. Please include the county where the sighting took place. The next scheduled update of this report is Thursday, March 11, 2010.