Make this salad a day ahead and you'll have crispy, crunchy, creamy, cool salad for your next gathering at the lake. Use any fresh and seasonal veggies, but do use them liberally. This is called a pasta salad, but its really a veggie salad with pasta thrown in. Both kids and grown-ups will enjoy this one.
Summertime Pasta Salad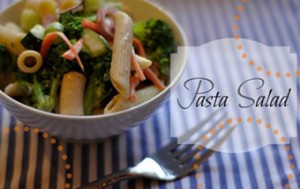 1/2 lb pasta of your choice, cooked and drained
1 large head of broccoli, cut into small florets, blanched in salted water for just a minute (seriously) into an ice bath for a minute and well drained
1 small (or 4-5 baby) red onions diced or sliced very thinly
2 medium cucumbers, seeded and chopped
3 carrots, cut into julienne (skinny strips)
Combine the above ingredients in a large bowl, tossing gently.
At this point, you could dress this salad with your favorite dressing and call it a day.
I like to use a slightly sweet and slightly creamy dressing as follows: 1/3 cup raspberry (or other) vinegar, somewhat less than 1/3 cup sugar, 1/2 to 1 cup of your favorite brand of mayo (or homemade), 1 teaspoon salt and 1/2 teaspoon pepper. That's it. Feel free to cut back on the sugar, or the mayo, sub in some olive oil for some of it…whatever.