1 recipe of your favorite tart dough (not sweet), or a package of puff pastry or a refrigerated pie crust (if you must). The recipe I use is below.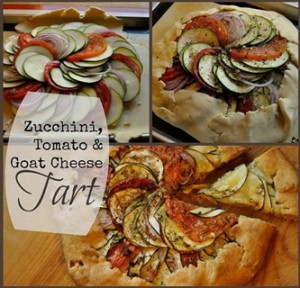 1 large or 2 medium tomatoes, cored and sliced ever so thinly
1 large or 2 medium sized zucchini, sliced very very thinly
1 red onion, sliced very very thinly
4 ounces of your favorite goat cheese
1 tablespoon finely chopped fresh thyme (or 1 teaspoon dried thyme)
3 cloves garlic, finely minced
salt and pepper, to taste
Preheat the oven to 400 degrees. Roll out the dough into a 16″ round. It doesn't have to be perfect, this is a rustic tart. Place the dough onto a greased cookie sheet pan – or use a Silpat as I do. Crumble the goat cheese onto the dough, covering evenly. Sprinkle about 1/2 the garlic and 1/2 the thyme onto the cheese. Begin placing the zucchini, onion and tomato on the crust leaving about 2-3 inches on the edge. Alternate the vegetables in whatever pattern or order you like. Make sure that they overlap significantly. You want a nice full tart, not a thin one. See photo for example. When you've got all the vegetables placed, season with salt and pepper. Fold up the edges of the tart over the vegetables, making sure that all edges are sealed so the tart does not leak. Season the with remaining garlic and thyme. Cook for 30 (maybe 40) minutes until the tart is golden brown, the veggies are cooked and the tart begins to bubble.
My Not Sweet Tart Dough
I make this in my KitchenAid Stand Mixer. You can do it by hand or in a food processor as well.
1 1/4 cups all-purpose flour
1/2 teaspoon salt
8 tablespoons (1 stick) cold butter, cut into pieces
1/4 cup sour cream
2 teaspoons lemon juice
up to 1/4 cup ice water
Combine the flour, salt and butter in the mixer fitted with the paddle attachment. Run the mixer on speed 2 until the mixture resembles pea-sized crumbs. Add the sour cream and lemon juice and mix on low speed until the dough starts to come together. Add water 1 teaspoon at a time and only if necessary to get the dough to come together. Today, I used only 1 teaspoon – it was very humid out. Pat the dough into a disk and chill at least 1 hour. Roll out as described above.