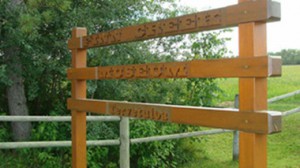 The history of Otter Tail County is fascinating. Interesting old stories are well-preserved at intriguing historic sites and museums throughout the county. If your family members still are not  excited after visiting our many Otter Tail County museums, cultural centers, and historical societies, then the Finn Creek Open Air Museum can be the optimal choice, where your family members will get a totally different historical trip experience.
Finn Creek Open Air Museum is a Finnish-American open air museum located 6 miles southeast of New York Mills. It is an eighteen acre interpretive site devoted to preserving the heritage of the Finnish Culture. Open all summer, the museum documents the early Finnish immigrants' lifestyles and experiences in the New York Mills area. It offers activities that include an antique tractor pull, a sawmill that is powered by a steam tractor, a threshing machine and tours of its original 1900s home. Also, there is a country school from 1890, entertainment acts during celebrations and special events, and a town hall. Its gift shop offers Finnish imported items, crafts, Finnish food and refreshments. There is also a chapel that can be used for weddings and other church services. If your family members are into outdoor activities, there are camping facilities that are complete with showers and RV hookups. The museum also hosts an annual festival in late August that highlights music, food, and entertainment that reflects the Finnish-American experience.
Come and enjoy a wonderful Finnish-American historical cultural journey with your family!