This is the Northwest Minnesota Birding Report for Thursday, January 15, 2015  sponsored by the Detroit Lakes Regional Chamber of Commerce. You may also hear this report by calling (218)847-5743 or 1-800-433-1888.
After a windy cold snap, temperatures are moderating in the northwest this week. No thawing has occurred in the far northern part of the area, but there have been reports of above freezing temperatures in Moorhead. A little snow has fallen in the northern counties , keeping all nice and white.
Lynda Knutsen reported that the NORTHERN HAWK OWL  found on the Agassiz CBC on December 18 was sighted again in the same location a mile north of the intersection of Marshall County Roads 12 and 46 on Friday, January 9. I have failed on two occasions to spot it again, but it is surely in the same general area still. Today, January 15, I found a cooperative NORTHERN SHRIKE  along CR 12 south of CR 7. Other species seen in the county today included  SHARP-TAILED GROUSE, COMMON REDPOLLS and BLACK-BILLED MAGPIES  at nearly every farmstead.
In Red Lake County, Shelley Steva saw a GREAT HORNED OWL  one mile east of Brooks on MN 92, and a SNOWY OWL  two miles east of Brooks along MN 92. Ten SNOW BUNTINGS  were seen along US 59 north of Plumme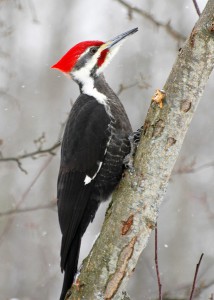 r.
Benjamin Eckhoff reported that the Alexandria CBC on January 3 turned up 29 species including several waterfowl species at the dam at Lake Carlos SP,  NORTHERN SHRIKES, four PILEATED WOODPECKERS, BROWN CREEPERS, and a GREAT HORNED OWL. Later in the week, sightings included BALD EAGLE, RED-TAILED HAWK, and RUFFED GROUSE.
Please report bird sightings to Jeanie Joppru by email, no later than Thursday each week, at ajjoppru@mncable.net OR call the Detroit Lakes Chamber's toll free number: 1-800-542-3992. Detroit Lakes area birders please call 847-9202. Please include the county where the sighting took place. The next scheduled update of this report is Thursday, January 22, 2015.