This is the Northwest Minnesota Birding Report for Thursday, February 5, 2015  sponsored by the Detroit Lakes Regional Chamber of Commerce. You may also hear this report by calling (218)847-5743 or 1-800-433-1888.
It has been cold this week in the northwest, but seasonable. No snow has fallen in the last week, but some is forecast for this weekend. Snowy owls continue to be seen in many parts of the state.
Joel Groebner saw a SNOWY OWL  on the ice of Lake Itasca near Schoolcraft Island in Clearwater County  on January 28.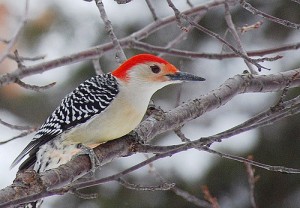 A EURASIAN COLLARED-DOVE  was reported by Zeann Linder in the city of Thief River Falls in Pennington County  on January 30. About 30 BOHEMIAN WAXWINGS  visited the crabapple trees in our neighbor's yard this morning.  At the same time a RED-BELLIED WOODPECKER  was heard calling. Shelley  Steva observed a NORTHERN HAWK OWL  near the 7-Clans Casino on February 2.
In Polk County, Jennifer Audette saw four SNOWY OWLS  in the Sherack area near CR 21 on February 2. Emily Hutchins saw a female SNOWY OWL  a mile  east of Marcoux Corner along US 2 on January 31.
From Otter Tail County, Gary Otnes reported a small flock of HORNED LARKS near Fergus Falls on February 4.
Thanks to Emily Hutchins, Gary Otnes, Jennifer Audette, Joel Groebner, and Shelley Steva for their reports.
Please report bird sightings to Jeanie Joppru by email, no later than Thursday each week, at ajjoppru@mncable.net OR call the Detroit Lakes Chamber's toll free number: 1-800-542-3992. Detroit Lakes area birders please call 847-9202. Please include the county where the sighting took place. The next scheduled update of this report is Thursday, February 12, 2015.