This is the Northwest Minnesota Birding Report for Thursday, February 19, 2015  sponsored by the Detroit Lakes Regional Chamber of Commerce. You may also hear this report by calling (218)847-5743 or 1-800-433-1888.
Another cold week has passed, but the landscape looks cleaner thanks to the fresh snow of a few days ago. As of Thursday evening, road conditions in the north are in good winter driving condition. A little snow is promised for tomorrow. As far as birds go, very few returning migrants have been seen, but the snow buntings has mostly changed into their summer black-and- white plumage.
Gretchen Mehmel reported a HOARY REDPOLL  at the Norris Camp feeders in Lake of the Woods County on February 15. Charlie Tucker observed a NORTHERN GOSHAWK  and a GREAT GRAY OWL near his place on the Roosevelt Road.
Joanne Johnson made a trip to Roseau County on February 15 where she reported 10 GRAY PARTRIDGE  and COMMON RAVENS  along MN 310 north of Roseau, a NORTHERN HAWK OWL , two female PINE GROSBEAKS, and a SNOWY OWL  along the Sprague Creek Road, and two NORTHERN HAWK OWLS along MN 11 just east of Salol. Beth Siverhus observed WHITE-WINGED CROSSBILLS, and a RUFFED GROUSE  in the Beltrami Island State Forest on February 16. She also reported a NORTHERN GOSHAWK  that appeared in Cindy Barcht's yard southwest of Warroad.
In Beltrami County, but still in the Beltrami Island State Forest, Gretchen Mehmel reported that a NORTHERN HAWK OWL  has been following their dozer at the shear site southeast of Gates Corner.
At Itasca State Park, Hal and Ronda Sanders observed a RED-BELLIED WOODPECKER  on February 17.
In Marshall County on February 15, Joanne Johnson saw SHARP-TAILED GROUSE, BLACK-BILLED MAGPIE, COMMON RAVENS , and SNOW BUNTINGS.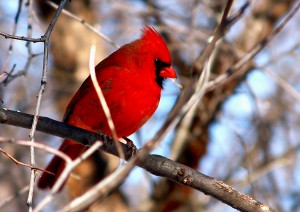 In Pennington County, Joanne reported 35 SNOW BUNTINGS seen on her trip through the county on February 15. Dave Harbott reported a NORTHERN SHRIKE  in St Hilaire last weekend in addition to PILEATED WOODPECKER, SNOW BUNTINGS , and other expected species. At a feeder in Viking on February 14, Shelley Steva saw 5 DARK-EYED JUNCOS and a male NORTHERN CARDINAL. On February 13, I was able to locate two EURASIAN COLLARED-DOVES along Mussey Ave in Thief River Falls. A RED-BELLIED WOODPECKER  was seen at a feeder along CR 17 just north of the Red Lake County line on February 19.
The northern hawk owl reported first on January 20 near Plummer was found dead and turned in  to UM Crookston on February 2. We do not know what happened to it, but the bird was emaciated.
On February 15, Joanne Johnson saw a SNOWY OWL  along CR 21 in Polk County. Possible that was one of the five SNOWY OWLS seen by Tim Driscoll in the general area of Sherack on February 18. Sandy Aubol reported a MERLIN in East Grand Forks on February 16. On the 14th, she reported 2 WHITE-THROATED SPARROWS  and 30 DARK-EYED JUNCOS  in her yard, and on the 15th, 2 CEDAR WAXWINGS. Along US 2 at East Grand Forks on February 16, Dave Lambeth saw a SNOWY OWL, and near the American Crystal Sugar plant, an AMERICAN KESTREL. Today, February 19, I found a SNOWY OWL  along CR 44 a half mile north of CR 45. There was also a large flock of SNOW BUNTINGS along CR 45.
From Douglas County, Benjamin Eckhoff reported PILEATED WOODPECKER, BARRED OWL,  BROWN CREEPER, and WILD TURKEY  at Lake Carlos State Park this week. At Long Prairie Dam he saw TRUMPETER SWANS, CANADA GOOSE, COMMON GOLDENEYE, and COMMON MERGANSER; north of the intersection of CR 5 and CR3 he found three HORNED LARKS , a ROUGH-LEGGED HAWK, BALD EAGLE, and a NORTHERN HARRIER. A NORTHERN SHRIKE and RING-NECKED PHEASANT  were seen in Alexandria.
Thanks to all who sent in reports this week.
Please report bird sightings to Jeanie Joppru by email, no later than Thursday each week, at ajjoppru@mncable.net OR call the Detroit Lakes Chamber's toll free number: 1-800-542-3992. Detroit Lakes area birders please call 847-9202. Please include the county where the sighting took place. The next scheduled update of this report is Thursday, February 26, 2015.