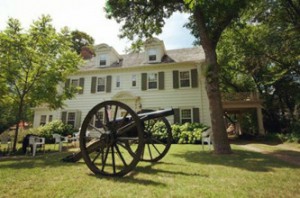 East Silent Resort is a great place to stay for your family vacation. Not just because of our beautiful lake, sandy beach, comfortable cabins, and exciting activities. Those are important, of course. But we are also minutes from several famous tourism attractions in Otter Tail County, Minnesota. Are your family members fancied by history, culture, or art? You can enjoy a fantastic historical journey and learn about interesting cultural stories by going to the famous Prospect House and Civil War Museum, located at 403 Lake Avenue North in Battle Lake City.
The Prospect House and Civil War Museum was built by Cap Colehour in 1882, a Civil War Veteran and entrepreneur, who settled in the West Central Minnesota community of Battle Lake after the Civil War. The house is based on architectural drawings from his home in Chicago, features the Civil War Museum in the lower level. You will be able to view Cap's collection of Civil War items and many pictures and articles.
In this coming December, the museum will hold two 1920's-themed holiday events, which will bring people together over hors d'oeuvres, music and a bit of theater. Don't hesitate to come to the Prospect House and Civil War Museum. Take this great chance to join in the fun historical activities going on right now!