Another tasty treat here for you to try! This recipe was found at sallysbakingaddiction.com. This recipe gives you and your family a safe way to eat cookie dough, who wouldn't want to try this recipe out? Enjoy making this recipe at home or when you are staying with us here at East Silent Lake Resort!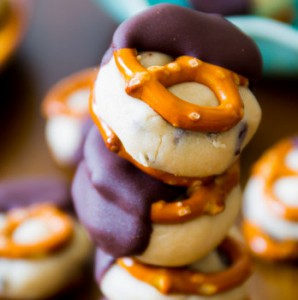 Ingredients:
• 1/2 cup unsalted butter, softened to room temperature
• 1/2 cup light brown sugar
• 1/4 cup granulated sugar
• 2 Tablespoons milk or cream
• 1 teaspoon vanilla extract
• 1 and 1/4 cups all-purpose flour
• 1/8 teaspoon salt
• 1/2 cup mini chocolate chips
• 40-50 pretzels
• 8 oz semi-sweet chocolate, such as Ghirardelli
• 1 teaspoon shortening, optional
Directions:
1. Line a large cookie sheet with parchment paper or a silicone baking mat. Set aside.
2. In a large bowl using a handheld or stand mixer with a paddle attachment, beat the butter, granulated sugar and brown sugar together on medium speed until light and creamy. Add the milk and vanilla extract and mix until combined. Turn the mixer off and add the flour and salt. Mix on low speed at first, then turn the mixer up to medium speed and mix until combined. The dough will be thick and crumbly, just keep mixing until it comes together. Mix in mini chocolate chips.
3. Roll the dough into balls, about 2 teaspoons of dough per sandwich. The amount of dough per sandwich may vary; it depends how thick you want each dough filling. Sandwich balls between two pretzels and place on prepared baking sheet. Freeze for 20 minutes.
4. While the pretzel bites are chilling, break up the chocolate and melt with the shortening for about 1 minute in microwave, stirring every 20 seconds. The shortening is used to thin the chocolate out. Dip the pretzel bites halfway into the melted chocolate and place bites back on baking sheet. Refrigerate the dipped bites for at least 10 minutes to allow the chocolate to set. Cover and store pretzel bites in the refrigerator for up to 5 days.
Who doesn't love dessert? Check out East Silent Lake Resort's Pinterest Page and "Sweet Treats at ESR | Recipes" board.