Let's get the nachos out of the oven and outside on the grill! Outside is the place to be here at East Silent Lake Resort in Otter Tail Lakes Country. This easy to follow recipe is quick to make, about 15 minutes. Something you and the family will love. The recipe is from www.bettycrocker.com and serves 4 people.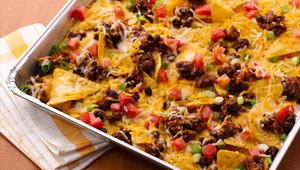 Ingredients
5 cups tortilla chips
1 can (15 oz) Progresso™ black beans, drained, rinsed and mashed
1 can (4.5 oz) Old El Paso™ chopped green chiles, drained
2 teaspoons Old El Paso™ taco seasoning mix (from 1-oz package)
2 plum (Roma) tomatoes, chopped
2 medium green onions, sliced (2 tablespoons)
2 cups finely shredded Colby-Monterey Jack cheese blend (8 oz)
Directions
Heat gas or charcoal grill. Spray 12×18-inch foil pan with cooking spray. Spread tortilla chips in pan.
In medium bowl, mix beans, chiles and taco seasoning mix; spoon evenly over tortilla chips. Top with tomatoes and onions. Sprinkle with cheese. Cover pan with foil.
Place foil pan on grill over medium heat. Cover grill; cook 8 to 10 minutes or until cheese is melted. Carefully remove foil.
Expert Tips
To reduce the calories to 470 and the fat to 12 grams per serving, make these nachos with baked tortilla chips and reduced-fat Monterey Jack cheese.
Foil pans can bend or buckle when you lift them. Slide the pan onto a cutting board to give it more stability.
Look for recipe ideas like this on East Silent Lake Resort's Pinterest Page, and "Amazing Appetizers as ESR | Recipes" board!