It's another week closer to Thanksgiving and we have a yummy side dish for you to make this year all thanks to Jo Cooks. Today I am thankful for wonderful places in the world like East Silent Lake Resort! Without places like that where would we go to relax and have fun with family and friends when we want to get away from home? Try this recipe for yourself, let us know in the comments what you are thankful for today and what you thought of this dish!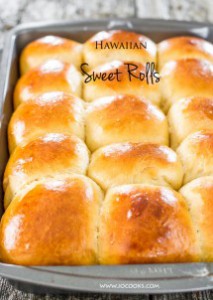 INGREDIENTS
• 8 tbsp. (1 stick) unsalted butter, melted
• ¼ cup buttermilk
• ¾ cup pineapple juice
• ½ cup brown sugar
• 1 tsp vanilla extract
• 1 tsp coconut extract
• 3¾ cups – 4 cups all-purpose flour
• 1 packet or 2¼ tsp instant yeast
• 1 tsp salt
• ¼ tsp ground ginger
• 2 eggs + 1 yolk, room temperature
• 1 egg for egg wash
INSTRUCTIONS
1. Heat oven to 200 F degrees.
2. In a medium size bowl, combine the melted butter, buttermilk, pineapple juice and brown sugar. Slightly whisk so that it's all combined. Wait a bit until mixture cools a bit (if it's too warm from the melted butter) then add the extracts.
3. Meanwhile, in the bowl of your mixer, combine the 3¾ cups of flour, yeast, salt and ground ginger. Using the paddle attachment, turn the mixing speed on low and slowly pour in the wet ingredients. Continue mixing while adding the eggs and egg yolk. A sticky dough will begin to form. Switch to the hook attachment and knead the dough for 7-8 minutes, adding ¼ cup more of flour if necessary. Do note that this is a very sticky dough, so don't add any more than 4 cups of flour total!
4. Once the dough has been kneaded, form into a ball and place in a large metal or glass bowl that has been lightly greased. Cover with a clean towel or plastic wrap, turn OFF your oven, place inside and allow to rise for about 1 to 1½ hours or until doubled in size. I use this trick all the time to speed up the rising time.
5. Once the dough has doubled, remove and gently deflate. Divide into 15 equal pieces. Roll into circles and place in a parchment lined 9×13 pan. Heat oven to 200 degrees. Generously butter the tops and sides of each roll. Place a clean kitchen towel over top. Turn OFF your oven and place the covered rolls inside to rise until doubled in size.
6. Remove the rolls from the oven and turn on your oven to 350 degrees.
7. Brush the rolls with the egg yolks. Once heated, bake the rolls for 22-25 minutes or until the tops are golden brown in color.
8. Remove from the oven. Another option is to skip brushing them with the egg wash and bake them, then brush them with melted butter once out of the oven.
Remember to be thankful! Check out East Silent Lake Resort's Pinterest Page and "Thanksgiving with ESR" board for more great recipes and ideas like this!