Since those kids are going to be getting a lot of candy at the end of the week! Fill them up with this healthy Halloween themed snack from Simplee Thrifty. This way they aren't thinking of candy all week long.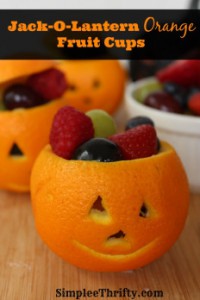 Ingredients
• 3 Medium Navel Oranges
• 1 cup Mixed Fruit
Instructions
1. Slice off the tops of the oranges.
2. Using a spoon, scoop out the pulp of the oranges.
3. Cut out faces on each orange to resemble a Jack O Lantern.
4. Fill each orange with mixed fruit and serve.
Who doesn't love Halloween? Check out East Silent Lake Resort's Pinterest Page and "Halloween with ESR" board.