Want to make a yummy summer salad? Try this recipe from shrinkingkitchen.com. It only takes about 15 minutes to make and serves 6 people about 1 ½ cups of salad. This would be perfect for an addition to lunch or dinner at East Silent Lake Resort.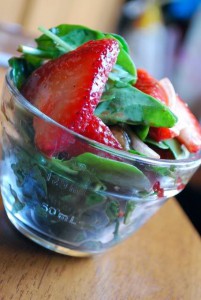 Gather
3 tablespoons olive oil
3 tablespoons balsamic vinegar
1/2 teaspoon salt
1/8 teaspoon freshly ground black pepper
8 cups torn romaine lettuce
2 cups sliced strawberries (1 pound)
1/2 cup vertically sliced Vidalia or other sweet onion
1/4 cup torn fresh basil
Directions
Combine olive oil, balsamic vinegar, salt, and black pepper in a large bowl; stir well with a whisk. Add romaine lettuce, sliced strawberries, sliced onion, and torn basil; toss gently to coat. Serve salad immediately.
Look for recipe ideas like this on East Silent Lake Resort's Pinterest Page, and "Amazing Appetizers as ESR | Recipes" board!