Whether you're staying busy at home with the family or you're relaxing up at East Silent Lake Resort, now is the perfect time to try out some new recipes! Especially during these frigid cold winter months, doesn't a hot pot of fresh ziti pasta sound fabulous? So how about trying this recipe from www.damndelicious.net tonight for dinner!
This "One Pot Baked Ziti" takes just 45 minutes total to make and the pasta even gets cooked right in the pan which means less dishes to clean for you!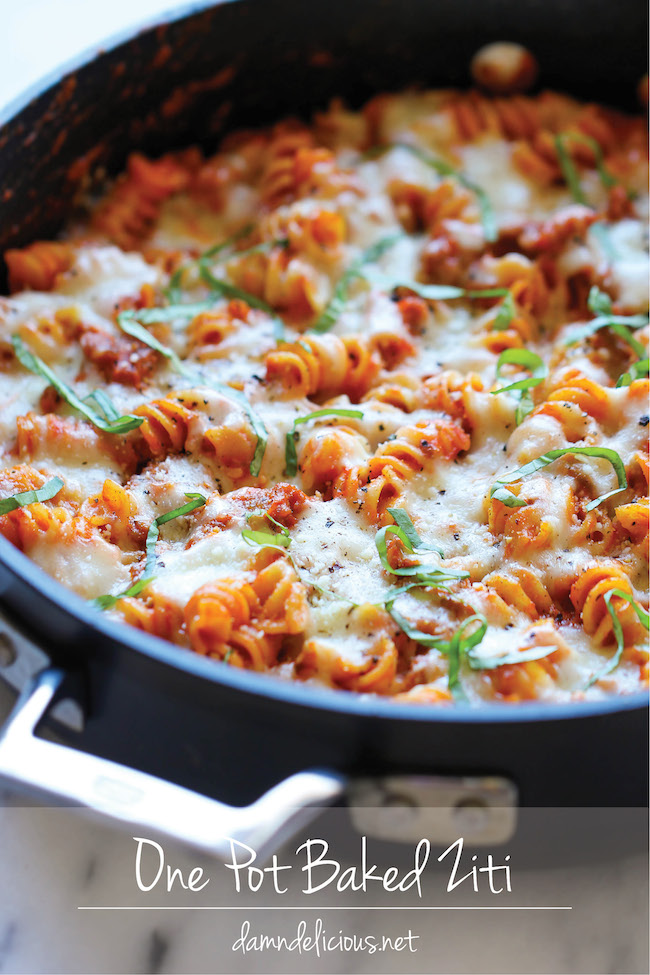 Prep Time = 10 minutes
Cook Time = 35 minutes
Total Time = 45 minutes
Serving size = 6 servings
Ingredients:
• 1 tablespoon olive oil
• 1 pound Italian sausage, casings removed
• 4 cloves garlic, minced
• 1/4 teaspoon red pepper flakes, or more, to taste
• Kosher salt and freshly ground black pepper, to taste
• 1 (28-ounce) can crushed tomatoes
• 12 ounces ziti pasta
• 3/4 cup grated Parmesan cheese
• 1/2 cup heavy cream
• 1 cup shredded mozzarella cheese
• 1/4 cup basil leaves, chiffonade
Instructions:
Heat olive oil in a large skillet over medium high heat. Add Italian sausage and cook until browned, about 3-5 minutes, making sure to crumble the sausage as it cooks. Stir in garlic and red pepper flakes, and cook, stirring frequently, until fragrant, about 1 minute; season with salt and pepper, to taste.
Stir in tomatoes and bring to a simmer until slightly thickened, about 8-10 minutes. Stir in pasta and 3 cups water. Bring to a boil; cover, reduce heat and simmer until pasta is cooked through, about 13-16 minutes.
Remove from heat; stir in Parmesan and heavy cream. Top with mozzarella and cover until cheese has melted, about 2 minutes.
Serve immediately, garnished with basil, if desired.
And make sure to follow East Silent Lake Resort's "Home Cooking" Pinterest board for more fun and delicious recipes!