If you're arriving in the lakes area anytime in July this year, you are in for a great treat. In a "normal" year, the local strawberries would have mostly been past their prime and likely all picked out. This year, which as you may be aware, is anything but normal.
In the interest of "always looking on the bright side", I bring you news that the u-pick strawberries are just now coming into season for our southern neighbors and most local growers are expecting lovely, juicy strawberries to be "ripe for the pickin" very soon.
If you're reading this before the season begins, the local grocery strawberries are also tasting pretty good right about now. And given our cold start to summer, the local spinach is doing very well too. Trust me, I know about these things.
If you've never tried a spinach salad with strawberries, you are in for a surprise. I know it sounds possibly too fruity – strawberries, pears, orange poppy seed dressing – but if you don't make the dressing too sweet and leave it a little on the tangy side, it will offset the sweetness of the fruit perfectly.
Please note that you can make this salad a bit heartier by topping it with a little cheese – I suggest feta – but any crumbly cheese will do fine. You can also add some chopped chicken (perhaps leftover from last night's BBQ). Other additions that would go well are thinly sliced red onion or a bit of bacon – bacon and spinach are naturals together. Besides, really…is there a food on the planet that bacon can't improve? Did I say that out loud? Sorry my vegetarian friends…the meatless, cheeseless "original" version is perfect as is. Please enjoy.
Strawberry Spinach Salad with Pears, Walnuts and Orange Poppy Seed Dressing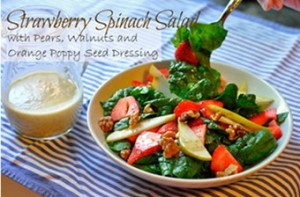 (serves 6-8)
For the Salad:
1 quart Strawberries, cleaned, hulled and sliced thinly
Lots and lots of Spinach Greens, rinsed, stems removed if needed
1 ripe Pear (I used Bartlett)
1 cup of Walnuts, toasted and roughly chopped
Optional Ingredients for the Salad:
Cheese – Feta, Parmesan or Blue, Ricotta Salta, any crumbly cheese. Feta is really good in this salad.
Chopped cooked Chicken Breast (approx. 3 breasts to serve 6-8)
For the Dressing:
2 tablespoons mayo (I use this to make a creamier dressing, but it can be omitted)
½ teaspoon Dijon Mustard
3 tablespoons white Sugar (you could sub honey or agave nectar or sweetener of choice)
2 tablespoons Orange Juice, freshly squeezed preferred – it's sweeter
¼ cup White Balsamic Vinegar (you could sub champagne, rice wine or raspberry vinegar)
1 teaspoon salt
½ teaspoon pepper
½ to 1 cup neutral oil (such as grapeseed (preferred), pure olive oil – not extra virgin or vegetable oil)
1-2 tablespoons Poppy Seeds
Assemble the salad ingredients. Toss gently. Prepare the dressing in a medium sized bowl by combining the mayo (if using), Dijon and sugar. Add the orange juice, vinegar, salt and pepper. Stir to thoroughly combine. Slowly drizzle the oil into the mixture while whisking continuously.
Just prior to serving, toss the salad with the dressing (or serve it on the side).