This is the Northwest Minnesota Birding Report for Thursday, January 8, 2015  sponsored by the Detroit Lakes Regional Chamber of Commerce. You may also hear this report by calling (218)847-5743 or 1-800-433-1888.
No doubt about it! Winter is definitely here. Snow covers the ground and the wind is howling outside while temperatures plummet.
A male VARIED THRUSH  visited the feeders of Kay Hartness in Detroit Lakes, Becker County on January 5.
Karen Suldahl reported two RED-WINGED BLACKBIRDS  in the town of Climax, Polk County, on January 7.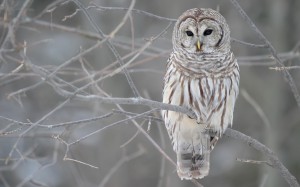 From Roseau County, Beth Siverhus reported  a HOARY REDPOLL  and a NORTHERN SHRIKE  in her yard in Warroad on January 4. The Roseau CBC went pretty well after a late start as the following species were tallied: two SNOWY OWLS  and three HORNED LARKS were spotted  northeast of the Roseau WTP; three NORTHERN HAWK OWLS  were seen along MN 310, and a ROUGH-LEGGED HAWK, a NORTHERN GOSHAWK, and a NORTHERN SHRIKE  were also seen north of mile marker 7. In the open country were found 27 SHARP-TAILED GROUSE  and about 1000 SNOW BUNTINGS.
Thanks to Beth Siverhus, Karen Suldahl, Kay Hartness, and  Martin Kehoe for their reports.
Please report bird sightings to Jeanie Joppru by email, no later than Thursday each week, at [email protected] OR call the Detroit Lakes Chamber's toll free number: 1-800-542-3992. Detroit Lakes area birders please call 847-9202. Please include the county where the sighting took place. The next scheduled update of this report is Thursday, January 15, 2015.